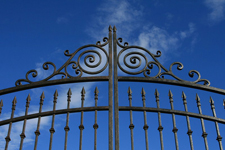 Decorative gates & railings
We can design, manufacture and install all types of steel gates and railings. Whether youÂ're after single gates, side gates, double gates, cantilevered gates or wall mounted railings or floor standing railings, we cater for everyone.
We offer an extensive range of gates and railings or if you are after something more bespoke we can customise your product to your requirements. Finish your gates with a locking system of your choice and any colour you desire. We can hand paint your gates and railings or powder coat.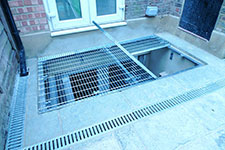 Lightwell Grills
Over the last few years TK Fabrications have experienced an increased demand for external lightwell grills, particularly in the London area. We have been working with many professional Basement Companies and now have an experienced lightwell grills team. We fabricate the grills bespoke to your specification. All are made to order, nothing is off the shelf. Lockable access hatches and ladders and available and with a choice of finish; galvanised, powder coated or both!
Benefits of lightwell grills: Strong and durable, virtually maintenance free. Available in a wide variety of sizes, spacings, thicknesses, surfaces, and finishes, depending on the application's environment and load requirement. Typically used for: basements, platforms, walkways, cellars, hand-railing and stair treads.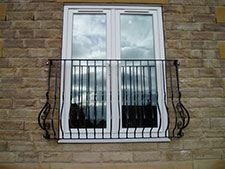 Juliet (Juliettes) Balconies
Made to measure to a design of your choice. Juliettes act as an attractive guard rail or balustrade that protects an opening. You cannot step out onto a juliet balcony but can lean on it.
Our Juliette balcony options are available in glass and metal, and in a variety of shape, sizes and finishes.
Juliet Balconies are ideal for: Housing developments, Apartments Three storey townhouses, Schools, Hospitals, Nursing homes, Student accommodation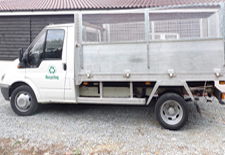 Bespoke Items
Over the years we have been asked all sorts of requests. From brackets to plant pots or from trolleys to car tailors. If it's made from steel we can give it a go!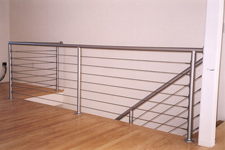 Steel Staircases
Whether you want an ultra-stylish glass balustrade (glass banisters) design for a hotel or restaurant, or a simple handrail system for a home, we can meet your needs. We can manufacture to any design or specification with a choice of various in fills such as toughened galls, horizontal and vertical ropes or solid bars.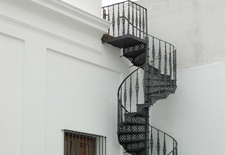 Steel Staircases
We can design, manufacture and install bespoke staircases and guardrails to your specific requirements.
Staircases may be straight flight, spiral or helical using a wide range of materials that include glass, timber and stainless steel.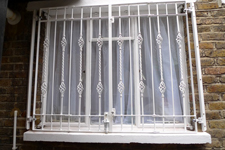 Security grills and fencing
We offer a range of grills and fencing to suit the needs of any home or business to give your property that added level of security. Grills can be designed for highly secure doors and windows, interior or exterior grills, mesh grills and security fencing.
Grilles can be made in a variety of colours and styles, on an entirely bespoke basis. For domestic uses we can design the grills to suit your house style so it doesnÂ't take away from the outward appearance.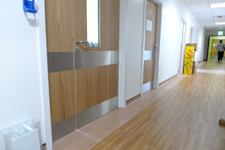 Stainless steel wall and door protection
A very sophisticated and professional finish to any project. Our stainless steel protection range is very popular and offers a wide range of products. The range consist of: stainless steel vision panels, door edge protectors, wall buffer rails, wall corner guards, kick plates, push/finger plates – all fabricated to any size.
Supply only or an installation service is available. Products are drilled and countersunk complete with screws or can be supplied un-drilled with all sharp corners re-burred.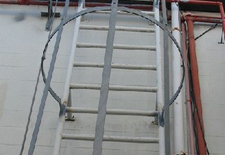 Ladders
Manufactured for domestic, trade and industrial markets. Roof ladders, multi purpose ladders, vehicle access or combination ladders. Available in single section or extendable two sections.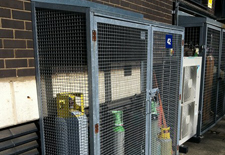 Steel Mesh Cages
Manufactured to any size, specification or usage. Popular choices – security cages, storage cages, cylinder cages or animal cages. All finished with heavy duty hinges and secure locking system. Suitable for internal or external usage.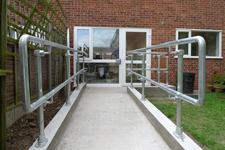 DDA handrails
The Kee Access railing system (DDA) is designed to help architects, engineers, specifiers, builders and contractors ensure that all commercial and public buildings satisfy the requirements of the Disability Discrimination Act.
The Kee Acess DDA railing system is suitable for stairs, ramps or walkways. A DDA railing is built from horizontal rails, supported by vertical upright posts, assembled from fittings and pipe. This type of handrail provides a continuous gripping surface throughout it's entire length.